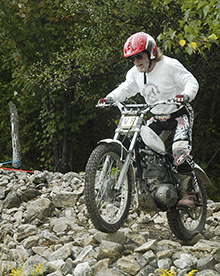 Michael Waller, the owner of Britannia Motorcycles, was born in Middlesbrough, England in 1951, and is proud to call himself a Yorkshireman. Although he followed a career in the oil and chemical industry which took him to many places around the world, and finally to the US in 1991, he never stopped working on British bikes. From a plunger Tiger Cub that he was given at fifteen, through BSAs, Nortons, Royal Enfields, AJSs and several BMWs, he has been riding for over forty years.
After moving to upstate New York following an early retirement, he started Britannia Motorcycles, restoring British machines and working on trials bikes and the specials that all British motorcyclists love to build. Active in vintage trials he uses the land around his home and workshop for the Richford Vintage Trials Centre where he hosts trials and provides lessons to new and experienced riders.
The doors of Britannia Motorcycles are always open to visitors as one of Michael's greatest talents is gossiping.